Source: Area Development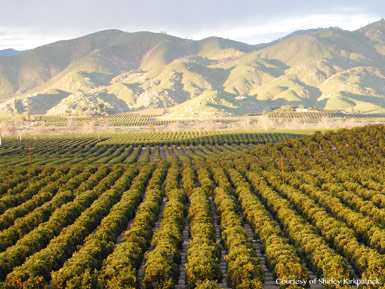 The business of agriculture is generations old. The business of space is a new frontier. They get along just fine in California's Central Valley, which enjoys what is essentially a microcosm of an entire nation's economy. Or perhaps "microcosm" is the wrong word, because there's nothing "micro" about it — the economy here dwarfs that of many nations.
It's a region of great contrasts. More than four million people call it home, and so do hundreds of thousands of cows. It's a region big on oil production that also happens to have some of the world's biggest wind and solar power installations. More than 200 crops grow here, and so do dozens of companies developing new aerospace technologies and countless other innovations.
The common thread is growth. "Growth is strong," says Richard Chapman, president and CEO of the Kern Economic Development Corp. "We know 80 percent of the state's growth is going to be in the Valley."

Number One in Ag-Producing
A logical place to begin a discussion of growth is agriculture. "Agriculture is a big deal for Tulare County and all of the Central Valley," says Michael Washam, economic development manager for Tulare County. In his county alone, agricultural production is worth $7.8 billion, just over $2 billion of which is dairy, he says.
"We're the number one ag-producing county in the nation and also number one in dairy production in the nation," agrees Paul Saldana, president and CEO of the Tulare County Economic Development Corp. That's a real economic stabilizer, even when things are shaky in general, because people always need to eat. "We've seen stability through the recession because of that," Saldana explains.
Kern County actually holds the number-two rank for commodities in the U.S., according to the just released Agricultural Crop Report.
It seems practically anything grows in the Central Valley — the crops are diverse. They're evolving, too. Washam notes that recent years have seen an increase in the production of nuts and stone fruits, driven by export demand as well as the fact that they're higher-value crops than many row crops.
What really drives the economy isn't just growing those crops and dairy farms. The Valley is dotted with manufacturing facilities that turn out familiar food products. The list includes a who's who of national and international brands that have recognized the importance of being in the nation's biggest ag-production region, along with homegrown companies such as Ruiz Food Products, whose El Monterey brand provides work for a couple of thousand people locally and has fed nationwide expansion. The list keeps getting longer, Saldana points out. "Two companies are building new cheese-producing facilities," he says, and a citrus products company is getting ready to add more jobs soon. Tulare County's combination of excellent interstate highway connections and rail services makes it well situated for food processing and goods distribution operations.
"We're seeing a lot of exporting of dairy products," Washam adds. That can take lots of forms, including powdered milk and formula, which require production and processing. "There's a lot of interest in milk plants as well as cheese. A lot of companies are expanding their production capacity."
"But we're not just limited to agriculture," Saldana observes. Consider the fact that the Central Valley is right in the middle of the most populous state, with the added benefit of major port operations not far away. That makes it ideal for distribution and logistics. Again, it's a long list of familiar names that take advantage of the location, from Best Buy to Dollar General to Sears to Target to Walmart. "We're about four hours or less from 90 percent of the state's population," Chapman points out.
Traditional and Renewable Energy
California's Central Valley is home to thousands of oil-producing wells. In fact, Kern County is one of the top-producing oil counties in the U.S., with some of its fields producing oil for more than 100 years!
And, as in other parts of the country, there's growing interest in hydraulic fracturing to try to tap into even more potential riches from the Monterey shale formation that encompasses some 1,750 square miles and is believed to hold more energy than some of the most productive shale formations in North Dakota and Texas.
How much of a future there is in Central Valley "fracking" remains to be seen. Releasing hidden energy deposits is an iffy business, and there's not always agreement with regard to how much oil and gas are trapped in layers of rock far below the surface. The development is made even more challenging by increasing opposition to the practice of fracking, due to environmental and seismic concerns.
Whatever happens in that part of the energy sector, it's clear that renewable energy is continuing its ascent in the Central Valley. Chapman says his area is home to the world's largest wind farm, and the biggest solar installation is under construction.
Renewable energy is a growing source of employment and prosperity, according to Washam, who points to the construction jobs driven by continual development of solar products, one after another. Through its innovative commercial solar program, Tulare County has had 18 utility solar-grade projects approved over two years.
MidAmerican Solar  579-megawatt Solar Star project, consisting of two co-located projects in Kern and Los Angeles counties in California, from SunPower Corporation.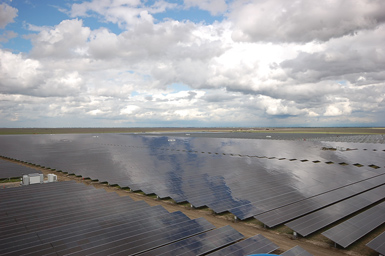 Atwell Island solar farm, Tulare County
"We've sometimes had up to 600 solar construction jobs at one time. They've been staggered so we've had good, constant work available," he says. It's not just the big installations either, he points out. Home solar installations are going through the roof, so to speak. "One of every five or six building permits is single-family solar."
A Rapidly Growing Economy
Energy isn't the only area in which the future is on display in the local economy. Chapman points to the Mojave Air and Space Port, where some five dozen companies are engaged in high-tech development. Perhaps the most visible are the operations of Sir Richard Branson, who has given celebrity status to the potential for commercial spaceflight at Mojave.
All of this is just a small picture of what makes the economy tick in the Central Valley — but it certainly is ticking. Growth is practically off the charts.
Kern County was named among the top-five metro areas nationally for upward mobility, and second in job growth for millennials, thanks to the proliferation of work in science, technology, engineering, and mathematics. It is, in fact, the number-four region for STEM jobs, according to the Brookings Institution.
That means workforce issues are always on the minds of local officials. "We are growing so rapidly and skillset levels are increasing with technology in all of the industries," Chapman points out. It's a challenge across the country, of course; however, the Central Valley has the benefit of high quality of life, which makes attracting top talent that much easier.
Dealing With Challenges
What the Valley really needs to attract right now is more rain. "We're all struggling with the drought in California," Washam says. The ongoing California drought has hit record levels this summer, and a recent report from the University of California-Davis says the economic impact on the Central Valley could be significant. Losses in crop revenue could hit $800 million, according to the report, with another $200 million in lost dairy revenue and $400 million in increased costs of pumping.
Californians are meeting the challenge in a variety of ways. With surface water depleting, users are turning to groundwater. Importing water is another option getting more attention, and water banking is a solution that helps users stay afloat.
Even amid such challenges, local economic development officials have all kinds of reasons to be upbeat, and plenty of selling points to keep the future bright. As Chapman notes, "The cost of doing business is 93 percent of that in the U.S., even though we're in California."
Saldana agrees: "If you look at it from site location, we have all of the things a company needs."